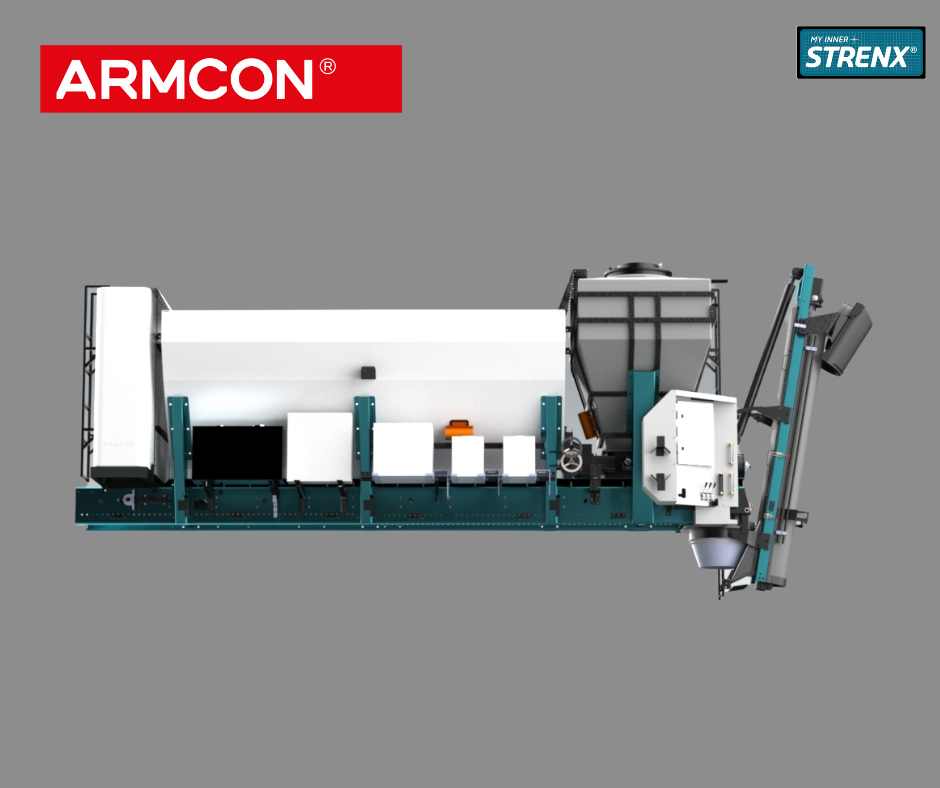 The DuraLight is stronger, lighter, and better looking with subframes redesigned in Strenx®
When volumetric concrete mixer producer Armcon needed to comply with gross vehicle weight restrictions, reduce costs and cut lead times yet maintain mixer durability and quality, it turned to Strenx® 700MC and Hardox® 450 steels.
Gains from moving from S275 steel to high-strength steel
Armcon implemented a lightweight design of its latest volumetric concrete mixer DuraLight using Strenx® 700MC high-strength structural steel and Hardox® 450 abrasion resistant steel. Moving up from S275 steel made the mixers easier to produce, lighter and more attractive.
Strenx® 700MC brings some substantial benefits to subframe structures, such as lighter and stronger high-strength structures compared with S275 steel alternatives. Using thinner steel dimensions enables lighter subframes, enabling vehicle owners and operators to meet stricter restrictions on maximum vehicle weight allowed on roads.
Stronger yet lighter next-generation heavy vehicles on the road ahead
The truck industry is set to transition to electric power and self-driving vehicles soon, who will require substantially lighter components giving room to the heavy batteries needed to high mileages.
Fleet owners recognize that an investment in driver comfort items and other amenities is critical as the need to attract and retain drivers. All these items add weight to a truck making light weighting important to continue shipping their current quantities of freight.
Armcon did its own light weighting with the support of SSAB achieve the optimal strength-to-weight ratio in its volumetric concrete mixers. The company succeeded redesigning subframe and aggregate bin, now reaching 8m3 at 32 tonnes.
Certified My Inner Strenx® volumetric concrete mixers good for business
Because Armcon was already using Hardox® wear plate as a qualified Hardox® In My Body member, this opened up the other products in SSAB's steel range. Armcon soon became an accredited My Inner Strenx® member, too. Each of our certified mixers features the My Inner Strenx® sign of quality that customers can trace as proof of their performance.
Strenx® 700MC workshop benefits
Here at Armcon, Strenx is used for the sub frame which all other parts are attached to, as well as for the support ribs for the aggregate bin and cement bin. The mixer frame Is also constructed from Strenx to allow reduced weight while maintaining high strength.
We are long-time users of SSAB's high-strength structural steel grades. The cleanliness and consistent properties of these steels enable new manufacturing processes, like tight bending, roll forming, punching with good finishing, and repeatable stamping for Armcon. In addition, Strenx® has a relatively low carbon equivalent giving its high strength, ensuring good welding results with a low impact on the heat-affected zone.
For us, bending Strenx® is so much easier than with mild steel. It behaves the same for every bend. Mild steel varies a lot and needs more setup and checking to get the bends right. This way, the change to Strenx® steel brought considerable savings in production time.
Benefits
When designing the DuraLight as a lightweight volumetric concrete mixer, it was important that the subframe held high strength, all whilst keeping a low weight… and this material did just that! To put this into perspective – our previously used regular steel and industry standard S275 has a yield strength of 275N/mm², whereas Strenx® 700MC has a yield strength of 700N/mm². This shows that Strenx® is 2.5 times stronger, increasing the durability of the DuraLight and prolonging service life. In the world of concrete, it's a necessity to have robust equipment when dealing with harsh materials and environments – so with the combination of Strenx® and Hardox®, our DuraLight can be kept at optimum health, meaning less downtime and a maximised lifespan of the mixer.